Order Now
---
A sweeping YA fantasy inspired by Scottish history and folklore, Our Divine Mischief takes readers on a journey told in three voices: a determined heroine, an outcast young man, and a wish-granting canine. Their adventure spans an island fishing village to the king's court in a story about identity, belonging, and the love between a human and her dog.
---
The Goddess Trial is designed to push young people to their edge and mark their coming of age, but Áila LacInis is ready for whatever it brings. She sets sail from her small fishing village to the island of the goddess Yslet, fully expecting a divine encounter, but what she finds is … nothing at all. The goddess is completely absent, and the only thing on the island is a dirty, mangy dog. Suddenly, everything Áila has ever known and believed is upended and her future becomes shrouded in uncertainty.
Hew already completed the Goddess Trial and received the designation of Unblessed. He is an outcast in the village, until he is tasked with assisting Áila through a series of Ordeals the town elders designed to compensate for her failed Trial. For the first time, he has hope he can make something of his life.
Orail isn't quite sure who or what she is. She remembers little before Áila's arrival on the island, and now all she knows is that she'll never leave Áila's side. But as she begins to realize and remember, she discovers powers—and an identity—she never could have imagined.
Told from three perspectives, Our Divine Mischief is an epic fantasy inspired by Scottish history and mythology that includes political intrigue, a sweeping love story, and an exploration of the powerful bond between dogs and humans.
Our Divine Mischief is:
A YA fantasy adventure for fans of Rebecca Ross's A River Enchanted, Garth Nix's Abhorsen books, and the Outlander series.
Told from three points of view, one of which is a mysterious, poetic canine.
Perfect for readers 13 and up.


Available now from BlinkYA/HarperCollins in hardcover, e-book, and audiobook formats.
---
Order and add to your TBR: Magic City Books, Barnes & Noble, Amazon, Goodreads, Storygraph.
---
Praise for Our Divine Mischief
"An absorbing exploration of truest friendship and the fulfillment that comes from knowing one's worth."
– Kirkus Reviews
"Poetic, whimsical, and full of heart. Our Divine Mischief is both tender and fierce, woven with threads of faith, belonging, and the unbreakable bond between a girl and her dog. I loved every word of this romantic tale."
– Rebecca Ross, New York Times bestselling author of A River Enchanted and Divine Rivals
"Tender, adventurous, fierce and free, Our Divine Mischief is a paean to magic, to the gods, to an older and wilder way—and the earnest search for one's place in the world."
-Anna Bright, author of the Beholder duology, and The Song that Moves the Sun
"This book is about belonging—the place others hold for you and the place you carve out for yourself—and it's about love, in all its human, canine, and divine iterations. Smart, stirring, strange, and lyrical—don't miss it."
-Joanna Ruth Meyer, author of Into the Heartless Wood and Wind Daughter
"Our Divine Mischief is a sweeping saga inspired by Scottish lore. Readers journey alongside three intrepid characters, one who is determined to prove her mettle through an exhilarating series of trials, one who is trying to find his worth after being deemed an outcast, and one who has a cold nose, wagging tail, and penchant for speaking in verse. With high stakes underscored by a cozy warmth, Our Divine Mischief explores themes of divine magic and the ways we find ourselves in the least expected places. As multi-layered and complex as a whisky from the Isle of Skye."
-Autumn Krause, author of A Dress for the Wicked and Before the Devil Knows You're Here
---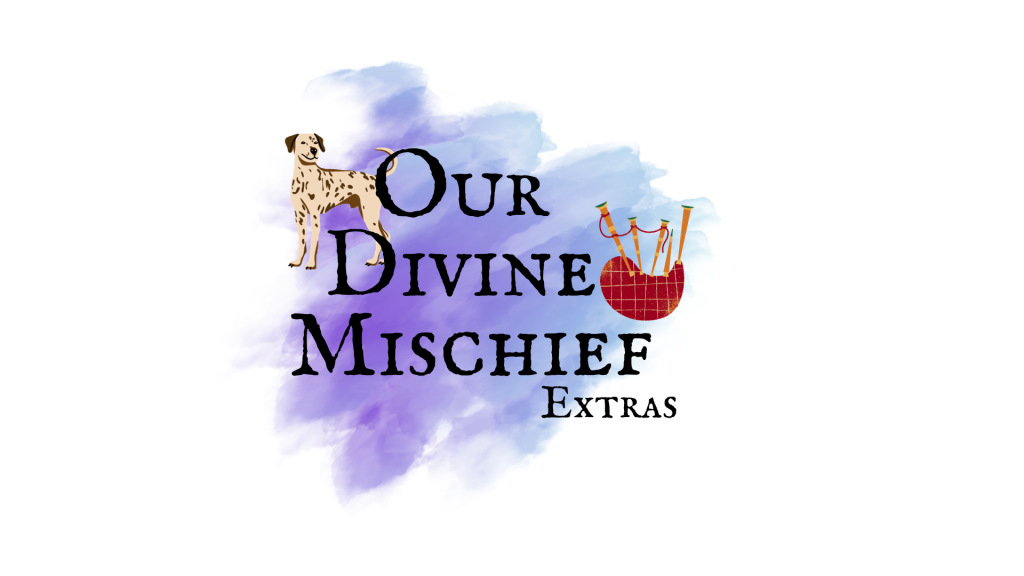 ---

---